With two inmates, Howard Co. work release center up and running
Read the original article source of this excerpt.
Kokomo Tribune on January 25, 2018 by George Myers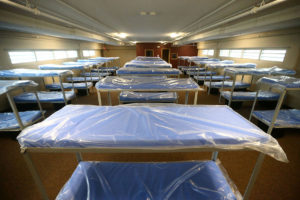 The Howard County work release center has accepted its first two inmates, bringing an end to months of anticipation and speculation about the much-debated program.
The center, housed in the former county jail on Berkley Road, received its first inmate Wednesday and its second Thursday, and has already displayed, in a small way, the effect it could have on the Howard County jail's issue of overpopulation.
The first inmate, said Howard Superior Court 3 Judge Doug Tate, was facing mandatory time for multiple OWIs. But instead of sending him to the jail, Tate chose to sentence the inmate to work release, in part so he could keep his job.
The second inmate was transferred directly from the jail.
In coming months, the work release center will accept a mix of inmates either sentenced to the program, transferred from the county jail or sent to Howard County from the Indiana Department of Correction "to transition back into the community," said Commissioner Paul Wyman.
Wyman said both current inmates already have jobs.
Overall, the program will start as male-only, operating with 80 beds. Up to 40 inmates from the DOC could be accepted; the DOC will pay the county roughly $40 per day, per inmate to house them.