Lake County juvenile probation program undergoing transformation
Read the original article source of this excerpt.
Northwest Indiana Times on 06/17/2019 by Sarah Reese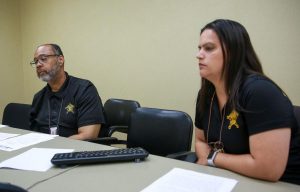 CROWN POINT — After reducing the number of children held in juvenile detention by more than 70 percent since 2010, Lake County now is shifting its focus to better preparing kids on probation for adulthood.
Lake Juvenile Court Judge Thomas Stefaniak said he has given juvenile probation officers a clear directive to "treat (clients) as if they were your own child and guide them."
He wants juvenile probation officers to shift from "just being strict rule enforcers to getting more toward the bigger picture of helping kids figure out what it is they want to do with their lives."
Probation officers should help children to become self-sufficient, rather than "knocking them down for rule violations," he said.
Marion County joined the Annie E. Casey Foundation's Juvenile Detention Alternatives Initiative in 2006.
The county was able to reduce the number of children in juvenile detention with no adverse effect on public safety, and the state took notice, said Nancy Wever, director of Indiana Juvenile Detention Alternatives Initiative.
Lake and Porter counties joined the initiative in 2009, followed by LaPorte County in 2014.