It's The Go-To Drug To Treat Opioid Addiction. Why Won't More Pharmacies Stock It?
Read the original article source of this excerpt.
NPR on 08/13/2019 by Nina Feldman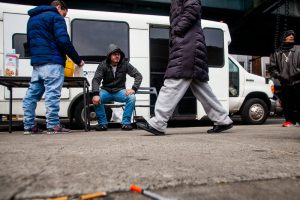 Louis Morano knows what he needs, and he knows where to get it.
Morano, 29, has done seven stints in rehab for opioid addiction in the past 15 years. So, he has come to a mobile medical clinic parked on a corner of Philadelphia's Kensington neighborhood, in the geographical heart of the city's overdose crisis. People call the mobile clinic the "bupe bus."
Buprenorphine is a drug, also known by its brand name, Suboxone, that curbs cravings and treats the symptoms of withdrawal from opioid addiction. Combined with cognitive behavioral therapy, it is one of the three FDA-approved medicines considered the gold standard for opioid-addiction treatment.
Morano has tried Suboxone before — he used to buy it from a street dealer to help him get through his workday when he couldn't use heroin. It kept the sick feelings of withdrawal at bay. So he has a sense of how it will make him feel, though he has never been prescribed it. He used to think of it as a crutch. But now, he is committed to his recovery, and buprenorphine is key.
"I can't do this anymore," Morano says. He wants the medical support.
The bupe bus is a project of Prevention Point, Philadelphia's only syringe-exchange program, and is part of the city's efforts to expand access to this particular form of medication-assisted treatment for opioid addiction.