How Harris County's federal bail lawsuit spreads beyond Houston
Read the original article source of this excerpt.
The Texas Tribune on 10/02/2017 by Jolie McCullough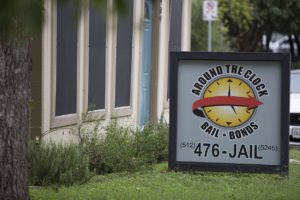 The next chapter in Harris County's saga over bail practices is set to play out in federal court Tuesday morning, and officials involved in pretrial processes throughout Texas are holding their breath.
The state's most populous county is involved in a complicated fight over how its bail procedures impact poor misdemeanor defendants awaiting trial. A federal lawsuit questions the constitutionality of the county's pretrial system, where arrestees who can't afford their bail bonds regularly sit in jail — often until their cases are resolved days or weeks later — while similar defendants who have cash are released.
Bail is a legal mechanism to ensure defendants appear in court for their hearings. The most common practice is secured money bail, where judicial officers set a bond amount that must be paid by defendants in order to be released. The bond can either be paid to the court in full and then refunded after all court appearances are made, or, more commonly, paid through a bond company that charges a nonrefundable percentage — usually around 10 percent — but will front the total cost.
Last year, inmates filed suit against Harris County, saying they were wrongfully detained in jail simply because they were too poor to pay their bail bonds. The lawsuit covers all indigent defendants arrested on misdemeanors, like driving with an invalid license or shoplifting.
In April, U.S. District Judge Lee Rosenthal issued a groundbreaking ruling, calling Harris County's bail practices unconstitutional and ordering the release of almost all misdemeanor defendants from jail within 24 hours of arrest, regardless of their ability to pay the bond amount. The county, which has implemented many of its own reforms since the suit's filing, has appealed the injunction at the U.S. 5th Circuit Court of Appeals, where oral arguments will be heard in New Orleans on Tuesday.