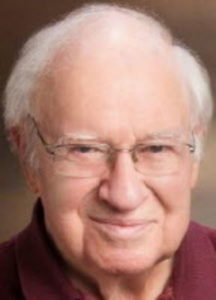 George Richard Glass, 87
NOV. 5, 1929—JULY 23, 2017
BLOOMINGTON — George Richard Glass passed away at age 87 on Sunday, July 23, 2017, in the loving company of family and those who cared for him greatly.
A man never short of words, he told stories often and even offered some great last advice "Great things come to those who cross the line … too many people live inside the lines. Cross the line."
George was born in Connersville, Indiana, and grew up in and outside of Shelbyville. He grew up loving horses and the little girl next door, whom he eventually married, Alice Gross (1929-2002). They were married for 49 years, and together they raised four girls, two on the farm in Edinburgh and two in Santa Fe, New Mexico.
Between Alice and George, they were known in their communities for caring for others on an individual basis. It wasn't who you were or what you accomplished, but how you showed up in this world. They wanted to know where and how you needed help. Their table was always set, and their daughters grew up appreciating and trying to emulate their depth of compassion.
A graduate of DePauw University (Economics, 1950) and University of Michigan (Law, 1953), George was a dreamer, a writer, and a lawyer. He spent his career practicing law, starting with Adams, Cramer and Glass in Shelbyville, eventually ending as the executive director of the Indiana Judicial Center. He loved politics early in his career, even running at one point for appellate court judge.
When in Santa Fe, from 1976 to 1986, besides practicing law, he found time to enjoy the local community, from acting in the Santa Fe Melodrama to mining for silver in the hills of New Mexico. While he loved his adventure there, he always longed to live back home again in Indiana. In 1969, George received the Sagamore of the Wabash Award from then Governor Edgar D. Whitcomb, an award given to citizens who have contributed greatly to "Hoosier" heritage. To the end, he stated every day how beautiful Indiana is. Your gleaming light will still be shining bright through the sycamores for us — always.
Above all, George loved his family (and his dogs), he laughed often, and he grew to accept all that life threw at him.
George is survived by his older brother, Eugene Hayter Glass (Corpus Christi, TX), daughter, Kathrine Glass and husband, Gene Perry (Bloomington, IN), daughter, Susan and husband, Kent Williams (Indianapolis), daughter, Janet and husband, George Mulheron (Princeton, NJ), and daughter, Linda Glass and husband, Steve Hill (Seattle, WA); each of whom was his favorite when present. He was also survived by six scallywag grandchildren, Joe Spear and husband, Curt Shearer, Margaret Spear, Chance Williams, Anna Williams, Wesley Hill and Finley Hill.
Lastly, the family cannot thank Jill's House in Bloomington, Indiana, enough for the deep love and care. Here are where angels work.
In lieu of flowers, the family asks that you donate to the charity of your choice.
That's all folks. The pen retires here with the greatest of men, "one handsome SOB." Best to you George — Morose Talese, Family Biographer
Visitation will be held on Saturday, July 29, 2017, from 10 a.m.-1 p.m. at The Allen Funeral Home & Crematory, 4155 S. Old St. Rd. 37, Bloomington, IN 47401.
You are invited to share a memory or leave an online condolence to the family at www.allencares.com.