POPAI and IACCAC Testify at the Interim Study Committee on Corrections and Criminal Code
on 9/18/2019
POPAI and IACCAC leadership made a joint presentation at the Interim Study Committee on Corrections and Criminal Code on September 18, 2019.  The topic was concerning trends in community supervision.
We were able to show the increase in community corrections population from July 2015 to September 2019.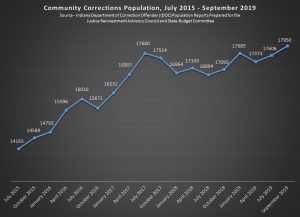 Additionally, there's been an increase in the adult felony probation supervisions received from 2015-2018.
The number of admissions to the Department of Correction for technical violations of court supervision has decreased nearly 54% from 2015-2019
Our presentation can be found here.  The video of our presentation begins at 3:49:00 on the archived video for September 18, 2019.