Juvenile Probation Officers Sworn In
Read the original article source of this excerpt.
Nexstar Media Group on 05/11/2017 by WANE Staff Reporters
FORT WAYNE, Ind. (WANE) Six new Allen County juvenile probation officers were sworn in Thursday.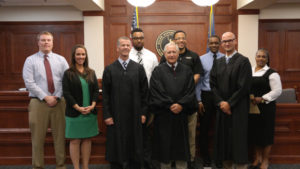 Abigail Fuller, Robin Beasley, Dontaey Paige, Michael Starks, Gregory Coleman and Dallas Colley were sworn in in a ceremony at the Allen County Juvenile Center along Wells Street.
The new probation officers were sworn in by Allen County Judge Daniel Heath. Magistrates Michael Douglass and Daniel Pappas also helped with the ceremony.
Heath called juvenile probation officers an integral part of local law enforcement and juvenile justice. He said the position can be a difficult one because it requires the handling of not just children, but also parents and other environmental issues