Justice center developer offers scaled-down plan
Read the original article source of this excerpt.
Indy Star on 6/3/2015 by John Tuohy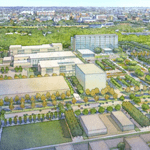 The developer of a proposed justice center on Indianapolis' Near Westside is offering a scaled-back version that would cut the price of construction by $17.5 million.
But the leader of the Democrat-controlled City-County Council quickly dismissed the plan as an insufficient and desperate last-ditch plan to save the complex.
WMB Heartland Justice Partners, the group that won the bid to build and operate the center, submitted the revised plan to council members Monday, said Fred Biesecker, the council's attorney.
The plan would reduce the number of beds in the Marion County Jail by 448 and the number of courtrooms by four. The current plan calls for 1,848 jail beds and 28 courtrooms.
The Marion County Sheriff's Office would be moved from its own building into the first floor of the courthouse, and the overall size of the center would be reduced by 80,000 square feet.
The cost of construction would drop from $408 million to $390.5 million.