Job Cuts Part Of Tippecanoe Court Services Reorganization
on MAY 28, 2015 by By KRISTIN MALAVENDA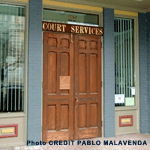 After several months of trying to dig itself out of a financial hole, Tippecanoe County's Court Services division is undergoing a massive reorganization.
Four of the agency's seven full-time positions will be eliminated at the end of June as part of a broader change in the way the department serves low-level offenders.
The move comes after Court Services sought help from the County Council to address a more than $100,000 deficit.
In February, Tippecanoe Court Services Director Cindy Houseman asked the Council for an additional $15,000 to pay for three months of utilities and rent at its offices on North 4th Street in Lafayette while the agency sought ways to increase revenue.
The council denied that request, saying Court Services needed to first demonstrate it could return to solid financial footing. Houseman made some waves when she told WBAA after the meeting she was frustrated because of what she saw as the Council's lack of support for the department. This week her job was eliminated.