James P. Reagan February 02, 1956 – August 29, 2017
News and Tribune on 08/30/2017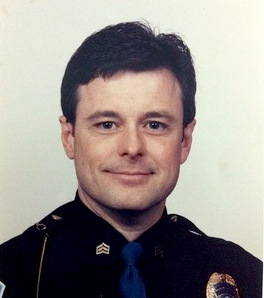 POPAI extends our sympathy to the family, coworkers, and friends of James Reagan,  Intensive Supervisor for Clark County Probation.
James Patrick Reagan, 61, lost his battle to cancer at his home on August 29, 2017.
James graduated from Providence High School and The University of Louisville. James retired from the Jeffersonville Police Department after 28 years of service as a Police Officer. He most recently was a Clark County Probation Officer serving as the Adult Intensive Division Chief.
This beloved husband, father, grandfather, son, and friend is survived by his wife, Rebecca Lockard; his children, Benjamin Reagan (Dany), Kyle Reagan (Shelly), and Taylor Lockard (Mack Schulz); grandchildren, Aaron, Samara, Isabella, Jude, Aiden, and soon to be born Lena; father, William Reagan; siblings, Kathleen Russ (Scott), Susan Monihon (John), and Paul Reagan.
He was preceded in death by his mother, Joyce French Reagan and son, Nathaniel James Reagan.
A memorial service will be held on Friday September 1, 2017 at 6 p.m. at E. M. Coots Funeral Home in Jeffersonville, Indiana. Visitation will be held from 1 to 6 p.m. A memorial service will be held at 6 p.m. A Celebration of Life will continue at the F.O.P. Lodge 100.
Expressions of sympathy may be made to F.O.P. Lodge 100 Shop with a Cop, Jerry's Place, and/or Charlestown Theater program.