ISP working to protect K-9 officers from potent street drugs
WDRB.com on 6/2/2017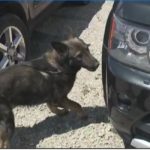 INDIANAPOLIS, Ind. (WDRB) — More potent street drugs are putting police K-9 officers in danger.
Indiana State Police say they are concerned about their drug-sniffing dogs, as they find more drugs laced with fentanyl.
"All they are doing is constantly inhaling – trying to smell and pin point," says Master Trooper Chris Richey.  He adds that "Constantly sniffing — you can imagine what they could be taking in, if we are not careful."
ISP says their K-9 units find heroin, carfentanil and fentanyl plus other deadly drug combos every day.  Sergeant Dennis Wade says  "We have to be on a heightened sense of awareness of what the substances are in these cars and make sure that they are using very much care with gloves and not to expose themselves or their dogs."
None of the ISP K-9 units have overdosed yet, but Wade says there have been close calls. "On I-70 our state police interdiction team seIzed several kilos of pure fentanyl — extremely dangerous to the lab personnel, the officers on scene, as well as the dog."
Troopers are also trained to check their partner for potential overdose symptoms. Wade says "They would show signs of impairment just like humans do. Impairment . Stumbling. A lot like humans would."
To help curb the danger, ISP is making sure every K-9 unit has a life-saving drug on hand for both them and their dogs. "Our K-9 handlers are going to be issued a second narcan, and if they see any impairment with the dog, we are to go ahead and give the dog a dosage. Just like we would a human," says Wade.
ISP hopes to equip all K-9 units with narcan within the next six months.
Copyright 2017 WDRB Media. All Rights Reserved.