Correctional Industrial Facility Celebrates Refurbishing 2,500 Chairs for Wheels of the World
Read the original article source of this excerpt.
WBIW on 10/11/2019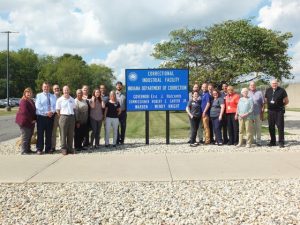 (PENDELTON) – Correctional Industrial Facility (CIF) hosted a tour of their Joni & Friends Wheels for the World wheelchair refurbishment shop.
Senior Manager for Domestic Operations Paul Dorthalina was joined by Joni & Friends outreach staff from Chicago, program donors and volunteers, along with correctional staff from Ohio who are interested in starting this program at their facility.
The tour was in conjunction with a normal audit of the operation by Joni & Friends as well as a PowerPoint outlining operational changes with Joni and Friends. Individuals were able to see the operation first hand and see how much work and care goes into refurbishing each wheelchair.
Paul Dorthalina presented Warden Wendy Knight with a plaque commemorating the refurbishment of 2500 chairs at CIF's shop.
Warden Knight commented, "It's rewarding both to CIF as well as the men working in our shop to realize how many lives have been changed as a result of this operation."
Wheels for the World provides wheelchairs for people who need them in less resourced countries around the world.
The Wheels for the World process includes wheelchair collection, restoration, and provision. Chair Corps and Wheels for the World volunteers collect used, manual wheelchairs throughout the United States that are transported to Wheels for the World restoration centers located in correctional facilities in 10 states.
From there, offenders restore them to like-new condition. Finally, physical and occupational therapists trained in seating fit each wheelchair to the recipient's need and provide them with training in its use and upkeep. They also provide a Bible in their language and join them in fellowship.