Clark County Judge Vicki Carmichael awarded for state, local work
News and Tribune on 9/25/2017 by Aprile Rickert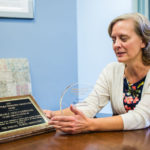 CLARK COUNTY — A Clark County judge recently was feted for her work to improve the courts system and to better the community.
Circuit Court No. 4 Judge Vicki Carmichael was awarded the two distinctions at the annual Indiana Judicial Conference, attended by around 600 judges, magistrates and senior judges from across the state.
The Excellence in Public Information and Education Award was given by the Indiana Judges Association for her special adopt-a-doll event, a Saturday each year where kids can come in and officially adopt their favorite toys, stuffed animals or even pets.
They stand before Carmichael and take an oath to care for their friend, and they are given a certificate of adoption. The program was originally started by former Clark County Judge Buzz Jacobs. Carmichael restarted the program nine years ago after a hiatus.
"It's just a fun thing," she said. "An introduction to the courts system that's positive. I think it's important for judges to be seen in the community — to be seen as approachable and compassionate and caring about their community and kids and families."
Carmichael was also recognized for her work the past two years as president of the Indiana Council of Juvenile and Family Court Judges — an organization that works to improve the efforts of judges and lawyers in relation to families.
The Juvenile Detention Alternatives Initiative, a program started in the 1990s to reinvest funds for mass incarceration toward juvenile, family and community development, is one major development borne out of the council in recent decades.
During her time on the council, Carmichael has been involved in legislation to help make sure children are protected — working with grandparent visitation and grandparents' rights, helping to improve service notifications to parents who may not be in a child's life, and working with the Department of Child Services to make sure services are in place.
"We as a county worked statewide to make sure that each county has access … to mental health treatment, substance abuse treatment, parenting classes — all of those things that parents need and that are so important to making sure families remain intact."
Clark County Senior Judge Cile Blau said it speaks volumes for Carmichael to have received the awards out of so many colleagues.
"Both of these awards recognize the work she is doing locally as well as on a state level," Blau said. And it was very unusual for one judge to receive two distinguished awards like that — to me it tells all of us how committed she is to her work, how committed she is to the families and children in Clark County."
She also praised Carmichael for her work beyond traditional judicial duties — like her implementation of family drug court, which seeks to find solutions to youth going through issues like drug use, parents with drug use or divorce.
"They bundle them up as a problem-solving court — not to punish, not to make a judicial decision, but to try to rectify the problem," Blau said.
"I think it shows number one, she recognizes the problem that every county has, number two, she's willing to do the extra work to have these programs and to encourage and motivate her staff to work on these programs.
Blau said Carmichael, chief judge in Clark County, also helps set the tone for the rest of the judiciary.
"I think this also shows that the other judges that are currently active as well as her magistrate are willing to work with her and share her vision of the things that need to be done in our county," Blau said.
Clark County Circuit Court No. 3 Judge Joseph Weber said he's proud of the work his colleague does.
"I think it's nice that there are almost 600 judicial officers in the state and she was one of the very few people to receive recognition for the good work she's done in the community," he said.
"I think it's encouraging to her and everybody who works in the courts system to know she's doing an excellent job. Vicki is the kind of person that is going to work hard and do a good job whether anybody hands her a plaque or a medal or not."