2017 Line Probation Officer of the Year: Ben Neureiter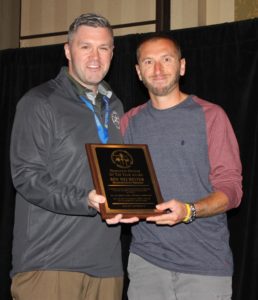 The Line Probation Officer of the Year Award was established to recognize line probation officers who have performed their duties in an outstanding manner and/or made significant contributions to the field of probation at the local, regional or national level. The recipient may also have brought credit or honor to the profession of probation through participation or involvement in community activities or programs. This recognition is awarded to probation officers who are involved in the direct supervision of criminal defendants/juvenile offenders and/or other line probation officer duties such as conducting Presentence Investigations, Preliminary Inquiries, and Predispositional Investigations. Past winners of this award are Dave Williams, Elizabeth Starck and Edward Beber.
This year's winner is an adult probation officer that has worked with Drug Court and currently supervises a specialized caseload of sex offenders. He also spends a lot of time in the field conducting home visits on moderate and high risk offenders. In the nomination for this honor, his Chief Probation Officer notes that this individual has an excellent attitude and is a very effective and thorough probation officer; he is an honest, respectful, team player.
The 2017 Line Probation Officer of the Year is Ben Neureiter of the Hendricks County Probation Department.
Judge Mark A. Smith of Hendricks Superior Court 4 states, "Ben has demonstrated a harmonious balance between the need to hold offenders accountable while also building relationships in an effort to change their lives. While working with Drug Court participants, Ben has often shown compassion for individuals struggling with addiction by advocating for them during drug court team meetings."
In Ben's private life, he and his wife run a non-profit organization called "Why Not Today" which involves running a farm to grow food that is then delivered to homeless shelters.
On behalf of the POPAI Board, please join me in congratulating Ben Neureiter as this year's Line Probation Officer of the Year.