2016 Founder's Award Winner: Susan Rice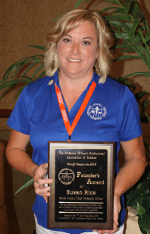 The "Founder's Award" is a way of recognizing individuals who have significantly contributed to the field of probation in general and specifically to the POPAI organization. The recipient need not be a Probation Officer or POPAI member. The selected person however, shall be characterized by his/her commitment of influence and promotion of professionalism to Indiana probation. Past winners of this award include Tom Fredrick, George Walker, Bruce Embrey, Charles "Bud" Meeks, Linda Parks, Greg Werich, Eric Zimmerman, Jane Seigel, Neil Hannon and Joe Hooker.
This year's recipient was supported with multiple nominations for this honor. Next year she celebrates 30 years of service as a probation officer to the State of Indiana. During these close to 3 decades of work, her impact to the field of probation has been tremendous within her county, the State of Indiana and the POPAI organization. The 2016 Founder's Award winner is Chief Probation Officer Susan Rice of the Miami Circuit and Superior Courts.
From the nominations, Marion County Chief Probation Officer Christine Kerl stated, "Susan exhibits the values, commitment and dedication to the promotion of professionalism to the field of probation as evidenced by the activities and initiatives she takes part. She has served as Vice President of POPAI as well as in her current role as Membership Coordinator and Conference Planner where her activities directly impact advancing our profession forward. She has been a member of the Probation Officer's Advisory Board where at the state level has influenced the initiatives and work of probation. She gives back to her community by her involvement….these activities in addition to her memberships in various professional organizations focused in community supervision provide a good picture of just how committed she is to her profession."
Miami County Prosecutor, former Judge and past POPAI Founder's Award winner Bruce Embrey stated in his nomination, "She has effectively served this county as more than just an employee. She has been innovative with programs, interested in her clients and their well-being, and has taken the initiative when change has been needed." "Her leadership has been felt particularly in the Child Abuse Prevention Council, the Substance Abuse Prevention Council and the Community Corrections Program, which she organized. She also put together our first CASA program and ran it until it received funding."
A great achievement of Susan's was a selection as a member of the 2014 American Probation and Parole Association Leadership Institute program. She sought to develop as a leader focusing on giving back to her community and state through her experience. She continually promotes this advanced professional opportunity and all of us are recipients of her accomplishments in this program.