The Hill on 3/7/2019 by Andrew Burki, Opinion Contributor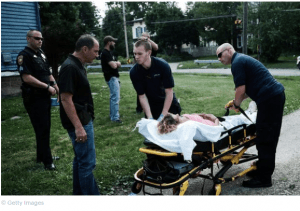 This is the 106th year of the drug war since the passage of the Harrison Narcotics Tax Act in 1914. It's fair to say that we're still losing. Our losses, both in human life and financial costs, are so staggering that they are incomprehensible. To many, it looks like we've stopped fighting to win. The latest impotent approach to addressing the addiction crisis here in America is to simply move the goalposts, call it a win, and write off a measurable percentage of the population and their families.
But letting people in desperate need die can never be an acceptable solution to our national health crisis. "Dead addicts" doesn't mean "the death of addiction" as anyone from the half dozen generations that have lived under the shadow of this war well know. When we fail to help people and communities, we are waging war against ourselves not against drugs. It's a war we will continue to lose. Our system is now so broken that hospitals kick overdose patients out on the streets to die 90 minutes after being resurrected with naloxone. Unless all our moving parts work together, they won't work at all—and people will continue being crushed between the gears.
Across America, we don't have a single community that isn't actively fighting the effects of addiction. Families, nonprofits, and private organizations contend with it, street by street and house by house. Even tranquil suburbs and small towns that were relatively untouched by the last generation's inner-city drug war battlefields are being forced to face the reality that the war is in their own bedrooms, too. Addiction is not something that happens to "other people." It's not a problem that only affects "them." The imaginary "them" is now clearly all of us.
As this failed War on Drugs has worn on, it has cannibalized its own best resources. The recovery advocacy movement, fighting for "equitable access to treatment, access to employment, access to education and access to housing," has been undercut and underfunded to the point of being almost useless. Many groups, which work from the White House to the front lines with people in severe conditions, have been mercilessly beaten into submission or forced to compete with one another for dwindling resources. They're just begging for the bare-bones minimum to keep people alive, yet they're told again and again there's no funding to be found. Continue reading →